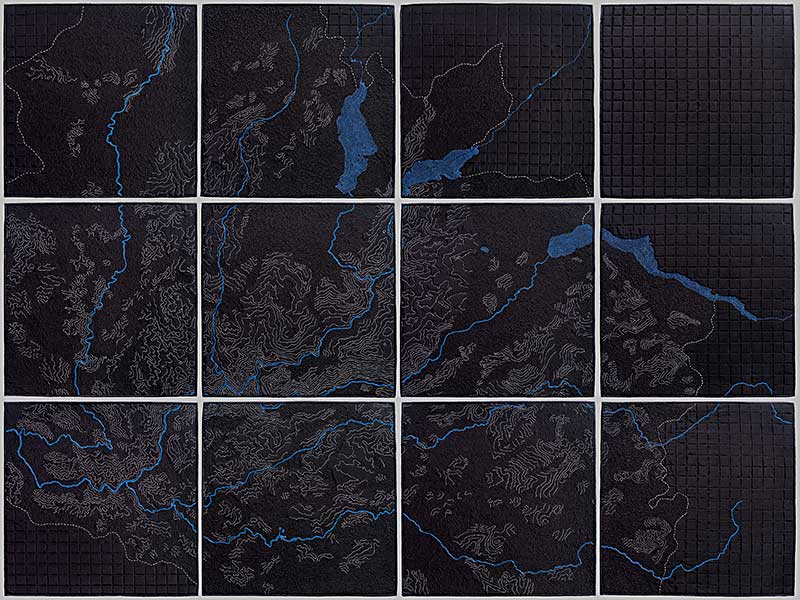 Copyright ©2015 Linda Gass. Photograph by Don Tuttle
Title: Severely Burned: Impact of the Rim Fire on the Tuolumne River Watershed
Dimensions: 72" w x 54" h
Artist Statement: Background: The Tuolumne River provides water for many cities in the San Francisco Bay Area. Fire is a natural part of the life cycle of healthy forest ecosystems but when you combine drought, summer heat, and an abundance of fuel from decades of fire suppression, you get a mega-fire like the Rim fire, burning so hot and fast, it consumed entire trees. The fire expanded to nearly 400 square miles in just over 7 days. 89% of the vegetation was burned and 40% was severely burned. The Rim fire is the largest recorded wildfire in the Sierra and 96% of it was in the Tuolumne River Watershed. Water quality will be affected by ash, fire retardant and soil erosion for years to come. Some of the severely burned areas may never recover to forests, changing the watershed forever.

In this artwork, I used the language of maps to show how much of the watershed had been severely burned. By overlaying the vegetation burn severity map on the 7.5 minute topographic maps for the region and I traced the topographic lines only in the areas that were severely burned under the rationale that now that the vegetation is gone, you can clearly see the topography. The Tuolumne River and its major tributaries and reservoirs are stitched in blue thread and the white stitched topographic lines represent the severely burned areas.
Materials and Techniques: Black silk crepe de chine, silk broadcloth backing and cotton batting; machine and hand stitched with cotton and polyester thread.
Detail: Click here for a detail image of the quilt
Status: Available for sale.